Recently, the list of the 2021 National Lei Feng (a moral model) Volunteer Service "Four 100" Exemplary Model, jointly organized by the Publicity Department, General Office, Central Commission for Guiding Cultural and Ethical Progress, and other departments, was officially announced, with Popular Science Volunteer Team of Chengdu Research Base of Giant Panda Breeding rated as the National Best Volunteering Organization.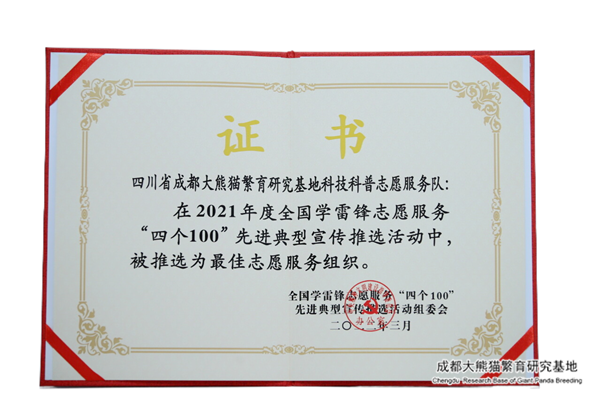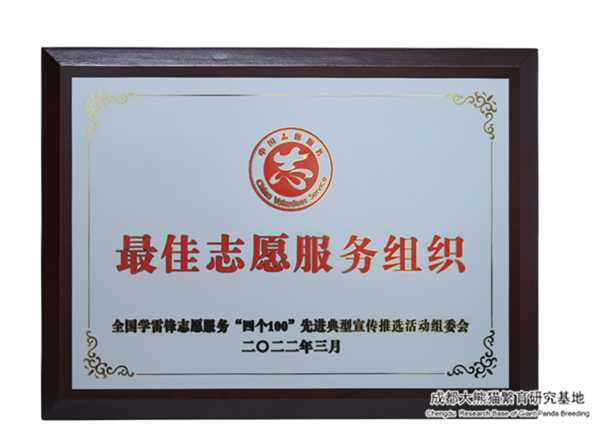 Honor Certificates
At the same time, the volunteer service case of the Base was selected into the Selected Typical Cases of Science and Technology Volunteer Service compiled by China Association for Science and Technology (CAST).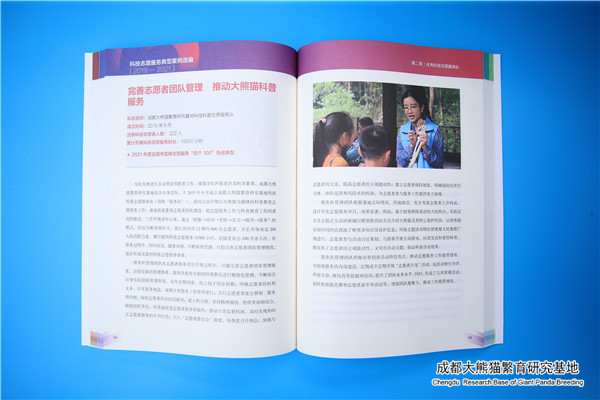 Selected Typical Cases of Science and Technology Volunteer Service
The awarded team was established in 2015 to carry out voluntary service of science communication education to the public with giant pandas as the carrier. The Base attaches great importance to the building of volunteer teams, and aligns volunteering works with popular science campaign. Since the work has been carried out for seven years in a row, the team has been continuing to grow, through the model of "recruitment-training-assessment-employment". As of May 2022, it has trained about 650 volunteers in thirteen sessions, and has kept about 200 active volunteers for many years. In total, it has provided 22,000 hours of popular science volunteer services, and has more than 1 million direct audiences, bringing significant social effects.
In the days to come, the team will make persistent efforts to provide the public with more extensive and high-quality volunteer services with higher confidence and enthusiasm. At the same time, we also believe that an increasing number of visionary people will join the team to spread the knowledge of biodiversity conservation to the public and make a difference to the conservation of giant pandas and other rare and endangered wild animals.