Happy laughter and cheerful voices can be heard in the Futou Mountain.
Take a look,
they are from giant pandas having a PE class.
All giant pandas delightedly and joyfully strive to take the first
to show that they didn't idle away during the winter vacation.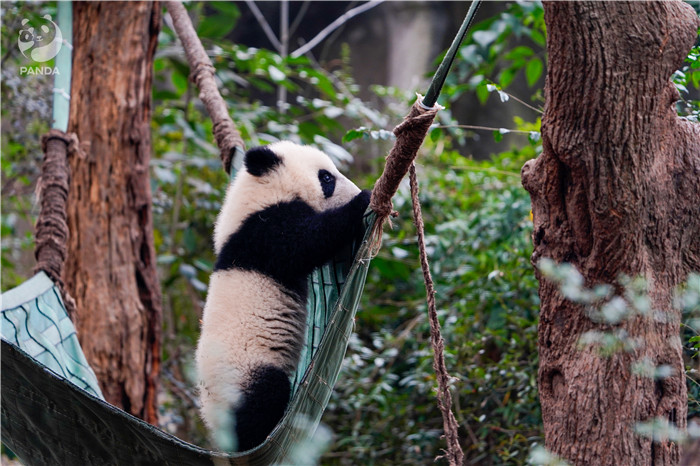 Diligent pandas will not be fear of any difficulties.
Climbing trees is a compulsory course
for every giant panda.
Obviously, Master Chun has completely learnt this course.
He is sitting on the fork with the same comfort and leisure as on a sofa.
From his slow and causal moves,
it can be told that he does have something on the ball.
Climbing requires them to have a pair of nimble feet
and stable and strong core force.
Sometimes, if you take use of the branch,
you can climb higher.
Climbing needs practice and practice makes perfect.
There is no tree that a giant panda can't climb up so long as it practices many times.
For giant panda,
Running fast is a quite useful skill.
After all, they run for meal
and for survival in the wild.
As long as you run fast enough,
difficulties can't catch you.
Therefore, all giant pandas are fully engaged in the running class.
Look, this boy, holding bamboo leaves in his mouth
with big steps and steady body
is definitely the winner of the 100-meter dash.
Run! Run!
For meal, run faster.
A well-rounded giant panda
must have great arm strength.
This giant panda knows that very well.
It is training pull-ups with the hammock rope.
The forelegs support the whole body.
The hind legs also play its role.
Upon reaching its hind legs to the hammock,
the giant panda climbs up with its all strength.
Thanks to the flexible waist
the giant panda finds its way to hang on the rope.
Today's training goal is over-performed.
Hey hey
Giant pandas seem to be not at a loose end in the vacation.
So those of you at the screen
Let's get out of the warm bed
And play the video in your ash-covered favorite.
Let's start training.