As the Spring Festival approaches, the annual home-returning rush is about to begin. Unlike previous years, two special returnees will join the home-returning rush this year and they cannot wait to cross the ocean to return to the Motherland for the Spring Festival.
In the early hours of January 12, 2020 Beijing time, a set of twin giant pandas, a boy and a girl, Jiapanpan and Jiayueyue, born in Canada, arrived at Chengdu by plane and successfully entered the Country thanks to the great support and collaboration from Chengdu Customs. As the Spring Festival approaches, these two giant pandas born at the Toronto Zoo in Canada eventually set their feet on the Motherland for the first time for their first Spring Festival in China.
Back in March 2013, Damao, a male giant panda from the Base, and Ershun, a female giant panda from Chongqing Zoo, headed to Canada together, beginning their 10-years' journey for the Sino-Canada Giant Panda Conservation and Research Cooperative Program. As scheduled, they lived in the Toronto Zoo for the first five years and then moved to Calgary Zoo for the second five years.
With the endeavor from experts from the Base and staff of Toronto Zoo, Ershun successfully gave birth to a set of twins, boy-girl, Jiapanpan and Jiayueyue, on October 13, 2015. As the first pair of giant panda cubs born in Canada, Jiapanpan and Jiayueyue have won the heart of Canadians. For example, the Prime Minister of Canada, Justin Trudeau was present at the twins' naming ceremony, Toronto Zoo organized a one-year anniversary party for the twins and Calgary Zoo flew fresh bamboo leaves from Sichuan to Canada for them, etc.
Jiapanpan and Jiayueyue have been living in Canada for 4 years since they were born. Though the two baby pandas have never set foot on their Homeland before, people at Home have been expecting them for a long time. Among the first batch of returnees to their home during the Spring Festival travel rush this year, the twins' return to their Motherland was a good start-off for all who intend to return home for the Spring Festival this year, and extend warm wishes to the Year of the Rat.
It is worth mentioning that the Base has engaged in scientific research, cooperation and exchange in giant pandas with 17 countries and regions since 1994, and is now conducting a long-term international cooperative scientific research and breeding program with 7 countries including Japan, USA, Spain, France, Canada, Germany and Denmark. As of 2019, overseas institutions with technical support from the Base have bred 2/3 of giant pandas living abroad with only 1/3 population, that is 34 giant pandas. It is the overseas institution with the highest rate of giant pandas survival so far.
[Nany's Diary]: Birth of Boy-girl Twins
The breeding and nursing of giant pandas has become the most difficult task in scientific research and conversion due to the particularity of the species. In April 2015, a delegation led by Mr. Cai Zhigang, a research fellow from Chengdu Research Base of Giant Panda Breeding, arrived in Toronto Zoo. Their mission was to perform an artificial insemination to Ershun.
"We eventually confirm the best mating period for Ershun in accordance with our work experience accumulated in the course of a long term operation after observing her behavior for a long time and analyzing the specific parameters provided by Toronto Zoo", said Cai Zhigang. He added that, "the whole process went very well, and Ershun conceived the babies successfully, which makes us very excited". Being pregnant with babies, Ershun became very gentle and obedient, and she moved more and more like a lady. Ershun successfully gave birth to Jiapanpan and Jiayueyue in the end thanks to the endeavor of research fellows and good care from her breeders.
While Jiapanpan and Jaiyueyue live a healthy and happy life in Canada, Chen Min as a breeder is full of feelings. What impresses her most was the period right before and after the twins were born which made everyone nervous.
"I arrived at Toronto Zoo on October 5, 2015. On the one hand, I am so busy discussing with the Canadian side on the progress of Ershun, and on the other hand, preparing for the pre-delivery and nursing work in a tense but orderly manner ", she said.
"We faced various difficulties at that time: The ultrasound inspection indicated it was twins; however, Ershun was comparatively weak. Since it's her first birth ever, we had no idea whether she knew how to care for her cubs, whether she had enough breast milk and whether she would be able to breast-feed them. These are all problems we faced", Chen Min recalled. Speaking of that difficult period, Chen Min unconsciously had a worried look on her face.
Thanks to care from the breeders both at day and night, Ershun gave birth to the twins on October 13. However, there were new problems: The first cub was very healthy, while the second cub was pale and vulnerable, and unable to take breast milk proactively. Chen Min said, "of at least one hundred cubs I have delivered, I have never seen such a pale and weak cub. All the people at the site were very anxious". She immediately reported what happened at the site to the Base , and experts at Chengdu, relying on their extensive experience and great technologic support, gave quick instructions via telephone. The cub turned around gradually in the end thanks to those instructions and arrangements of the experts and was able to gradually take breast milk. "On November 16, the cub became less pale, and gained weight gradually. Grey hair grew on the tip of its ears and eyes. This tells that the cub is healthy now". A large smile appeared on Chen Min's face at that moment.
The twins will go through a month of quarantine inspection at the Base's Quarantine Center after arriving Chengdu. This process is intended to help them get used to their new environment step by step while keeping them in good shape in various aspects. As the Spring Festival approaches, staff at the Base will also prepare a hearty Lunar New Year's Eve dinner for them in a bid to enable them enjoy the Spring Festival. Last but not least, we wish Jiapanpan and Jiayueyue healthily and happily grow in their Homeland.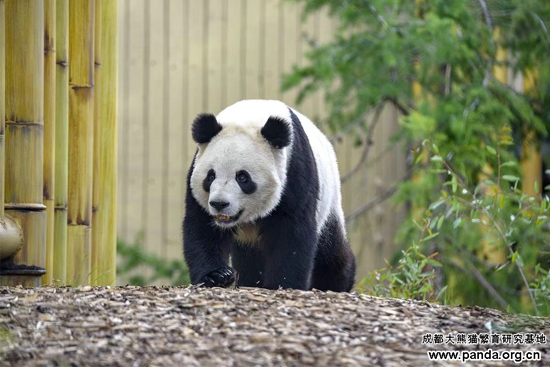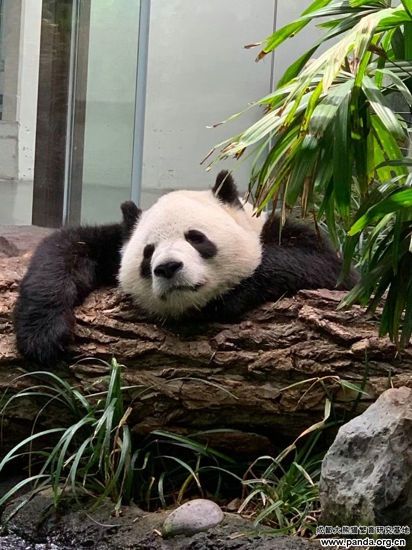 Jiapanpan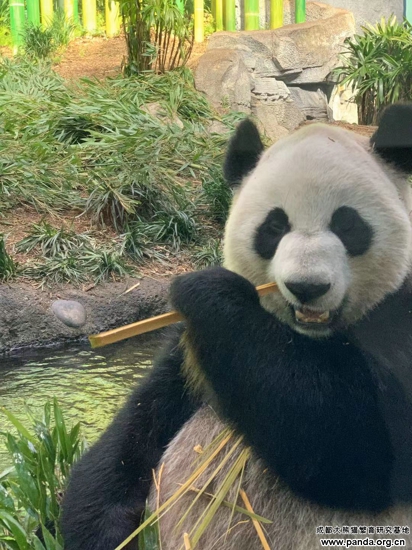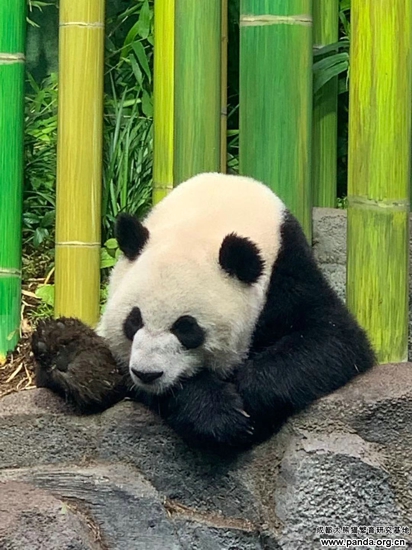 Jiayueyue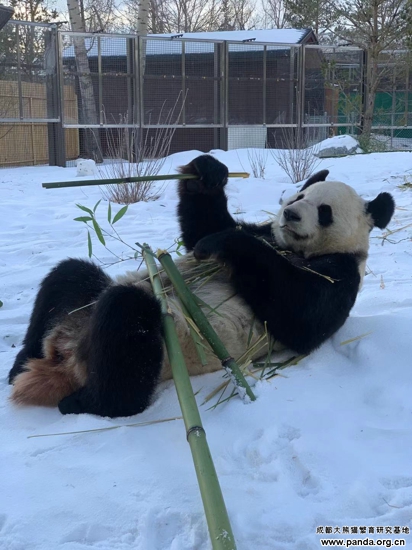 Ershun



Damao