As the breeders completed the final cleaning with water gun disinfectants, the fences around the No.2 Enclosure for Giant Pandas that was not open to visitors for months were eventually removed after intensive construction, welcoming visitors with its brand-new look. However, this is not simple renovation but a beneficial attempt in the design philosophy of "Optimizing the Enclosure, Creating Natural Ecology and Experiencing the Charm of Giant Pandas" to create a brand-new "ecologic enclosure" for giant pandas.
As for an "ecologic enclosure", it shall literally embody "ecology". The renovated indoor playground is full of green plants such as ferns, Chinese asters, radix ophiopogonis and dendrobe, presenting a natural landscape of "hidden bush and clean stream" with "stream" flowing down the "hill rock". In addition, flower-covered steep mountains and various animal companions are drawn on the walls using waterproof environmentally-friendly paint above the rockery. Moreover, the cement wall and cement pillars outside the enclosure are filled with plants and moss, making the hallway livelier and greener than the former tedious gray-white look.
The enclosure is also meticulously updated in addition to creating an ecologic look: Part of once used steel members was fully replaced by stainless steel to better cope with the local humid weather; compared to the simple cement pavement, the sidewalk outside the enclosure was paved with crushed granites, an excellent skid-proof and water permeability; as usual, each enclosure is equipped with a primary air system, and at the same time, the air-conditioner in the enclosure was replaced by a central air-conditioner, making it more scientific and convenient to control temperature; the flat glass on the roof of every indoor playground was replaced by glass roof in a pyramid shape, which significantly increases lighting and ventilation.
Outdoor playgrounds were also upgraded together with the indoor ones: The soil in the playgrounds was modified to make it softer and uneasy to harden, which not only improves the drainage performance but also facilitates the growth of plants; new and more stable platforms were erected; trees, turf and pine-skin plastics were re-planted.
So far, two giant pandas Aoli'ao and Shuxiang have been relocated to their new home. They are the first ones to enjoy the comfort and coziness of the upgraded outdoor playground. Soon, they will also enter into the indoor playground with "beautiful hills and clear waters" to conduct the final "acceptance" of the ecologic enclosure.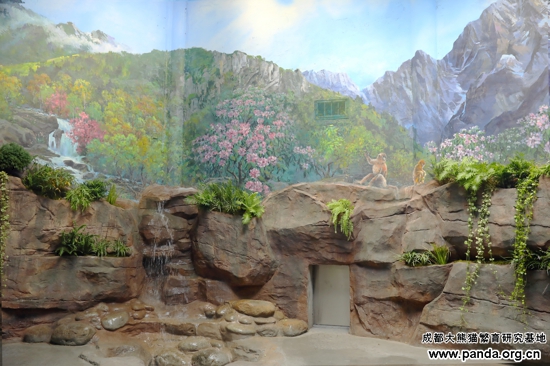 Real Pictures of No.2 Enclosure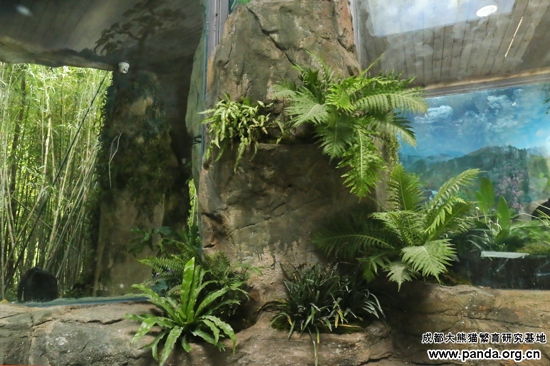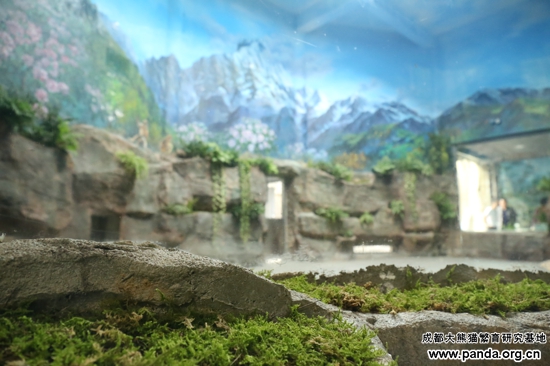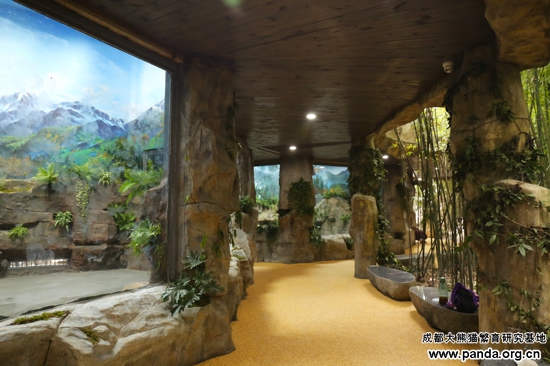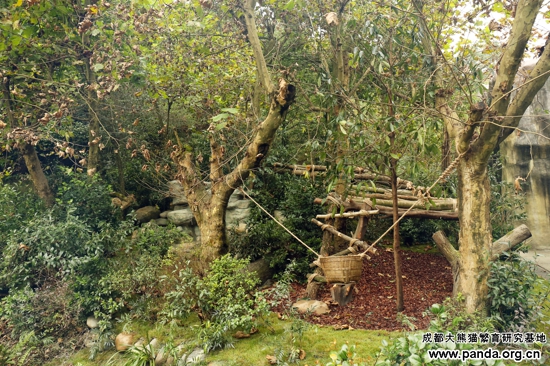 Renovated Outdoor Playground