In late September, the Asian Infrastructure Investment Bank (AIIB) Directors Theory-Discussing Meeting was held in Chengdu. On the afternoon of September 21, representative participants from various countries and regions visited the Chengdu Research Base of Giant Panda Breeding (the Base), a visit standing out from all their visits and inspections during the meeting. The Base attached great importance to this visit, and meticulously and thoughtfully prepared and delivered a successful reception to these representatives, in accordance with requirements from the Chengdu Municipal Party Committee, the municipal government and the Chengdu Park Urban Construction Administration.
As the first destination of their visits and inspections, the Base made considerate preparations for the reception. Prior to the visit, we finalized specific reception schemes and presentation contents after discussing with the preparatory personnel of the meeting and coordinating with relevant units. The visit lasted for nearly two hours, during which our staffs focused on showcasing our efforts on giant panda scientific research and breeding, public education, educational tourism, international cooperation, cultural branding as well as research on releasing captive giant pandas to the wild, in addition to panda's basic information and funny life stories. Our pandas aroused intensive interest from guests at home and abroad, and they also got deeper understanding and feeling for the giant panda as an iconic image of China.
Our efforts and achievements obtained in terms of scientific research and breeding, conservation education, educational tourism were highly recognized and praised by these representative participants during the visit. Besides, the Base also impressed them greatly with a beautiful natural environment and unique natural resources.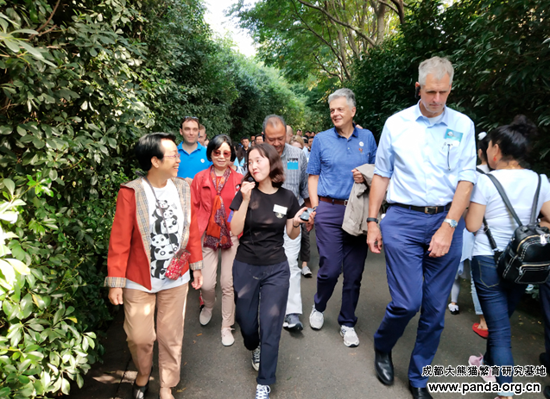 Our staff introduces the Base to guests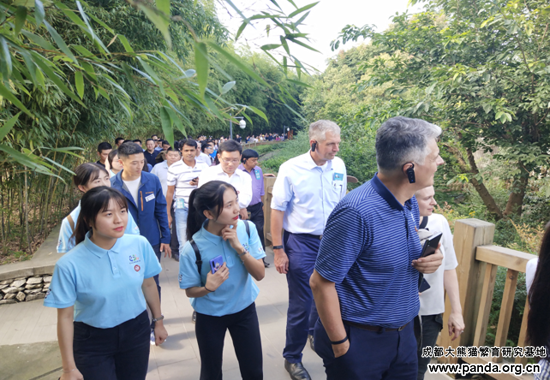 Guests visit the outdoor playground of moon-shaped giant panda delivery room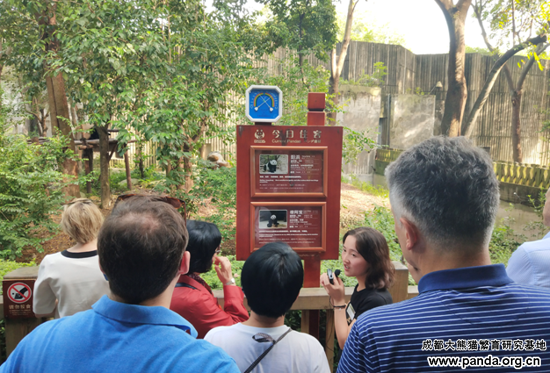 Our staff shares giant panda information with guests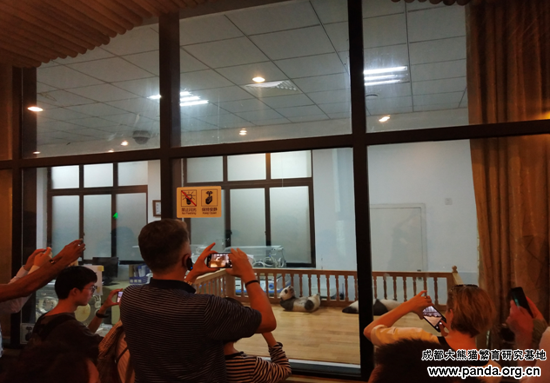 Guests view giant panda cubs born in 2019